TAS will be closed for Tuesdsay, Feb. 9, 2021 as were notified of a positive COVID case. Tomorrow will assist the district and health department to conduct contact tracing.

Moving last Friday's lunch to Monday: Cheese Bosco Sticks Grapes Caesar Salad Choice of low-fat milk

Do you enjoy technology? What about playing the Among Us game? If you said yes, then this is for you! Join Tahquamenon Area middle and high school friends every Thursday in February (11th, 18th, 25th) from 3:30-4:30 pm to play the exciting game of Among Us. These meeting will take place via the zoom platform; link will be given upon registration. To sign up for this awesome event complete this form:
https://forms.gle/ZReQ9fVpzdrXsixE8
. For questions please email Ashley Freed at
freedash@msu.edu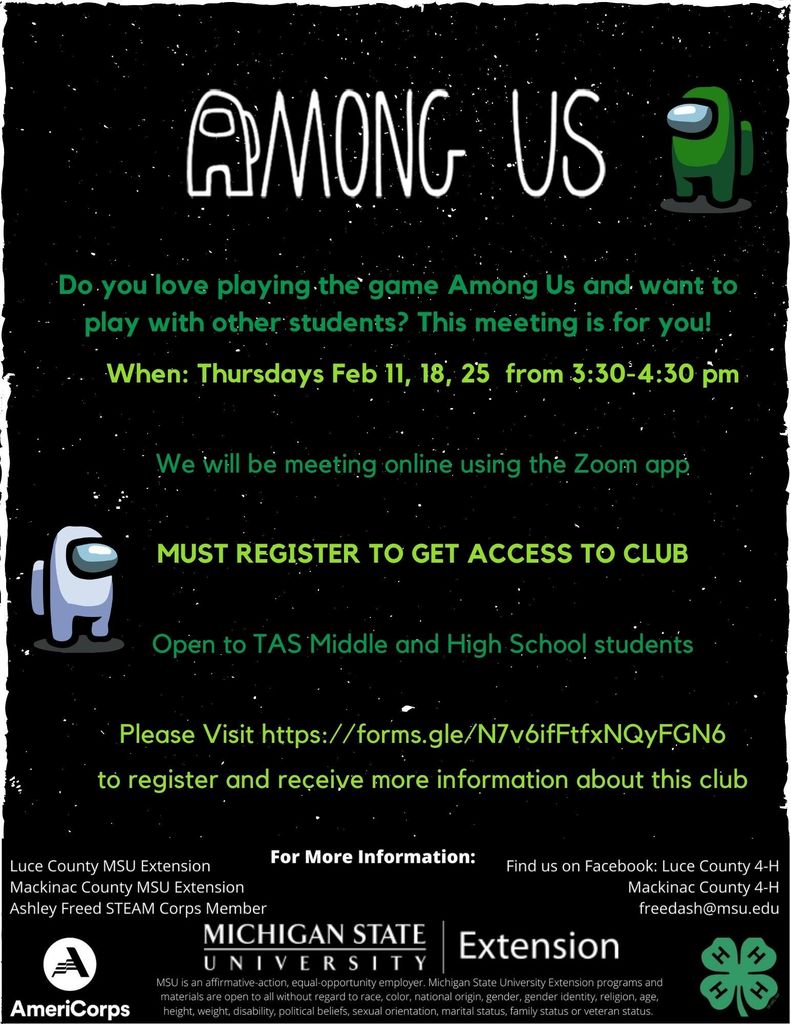 Newberry Area School students participated in the Great Kindness Challenge Week. On this day, students were, "Dreaming of Kindness."

Friday, Feb. 5, 2021 TAS will be closed due to weather. This evening alert is to help assist families with planning. Be Safe and see you on Monday, Feb. 8.

Category: Maintenance/Custodial/Custodian Date Posted: 2/3/2021 Location: Tahquamenon Area Schools Date of Availability: ASAP Date Closing: 2/17/2021 Edustaff Custodial Openings at Tahquamenon Area Schools. Hours fluctuate based on the season and need. - 5 hour daily shift and additional hours when needed for events - Wages begin at $10.50 per hour Responsibilities include cleaning, lifting and operating small machinery. Must be self-motivated, able to follow instructions and willing to learn the unique needs of a student-based environment. Apply Here - bring or mail completed application to Tahquamenon Area Schools, 700 Newberry Avenue, Newberry, MI 49868 OR Go to taschools.org (Quick Links, Employment Opportunities) - bring or mail completed application to Tahquamenon Area Schools, 700 Newberry Avenue, Newberry, MI 49868 OR Stop in the Central Office to pick up an application. For questions, please call TAS 906-293-3226 ext. 1101.


Community reminder: There will be a mobile food pantry on Thursday January 28th at 2:00pm at Luce County Community Resource & Recreation Center (LINK), W Helen Street, Newberry. Please stay in your vehicle and have space ready for food. While Supplies Last.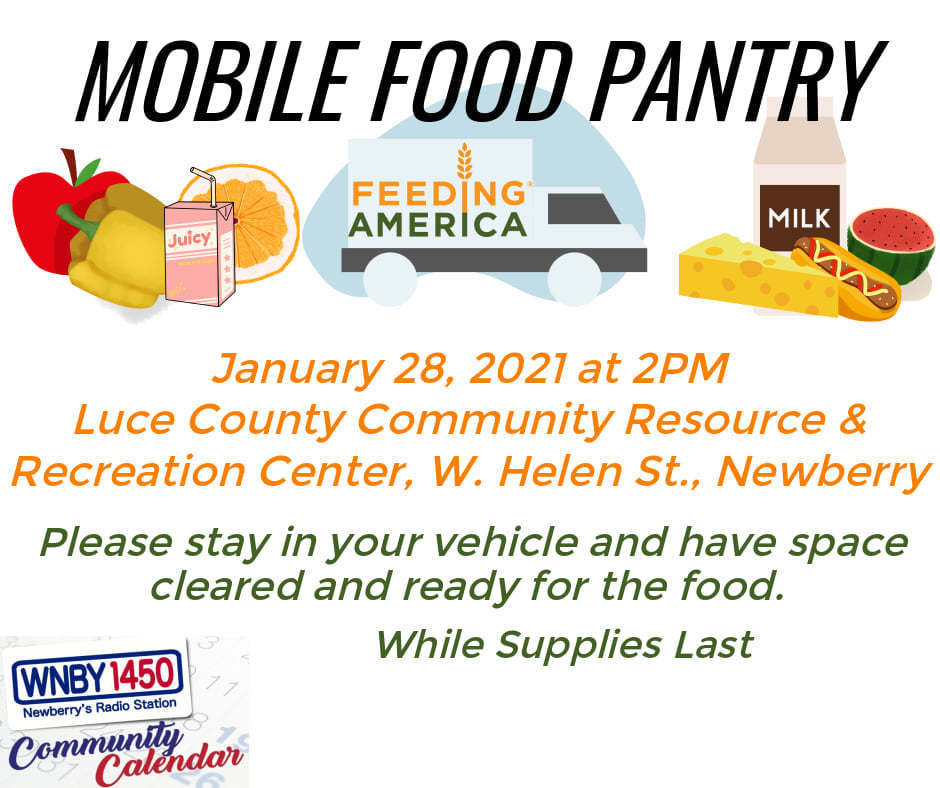 The EUP Athletic Directors have made the very difficult decision to postpone the boys and girls Jr. High and Elementary Basketball seasons for the school year. Due to the uncertainty of guidance from MDHHS and MHSAA we feel it's important to put the JV/Varsity programs on priority at this point in time. As more information becomes available we will keep everyone posted. If you have any questions you can contact your local Athletic Director.